Addition dice games
Play addition dice games online. Printable dice games. Dice addition games with dice. Addition dice game worksheet. Printable math dice games for kindergarten. Roll the dice addition worksheet PDF. Dice addition printable. Dice game worksheet. Math dice games for kids. Addition dice game printable. Dice addition game online. free printable math dice games pdf.
Addition dice games: insert the result of addition to the empty box.
Addition dice games for kindergarten
How to play dice addition games for kindergarten or grade 1? Count the dots on each cube. Then add up these 2 numbers.
Insert the result of the addition dice game to the empty box. Press ´Check it´ to find out the correct answer. If the result is OK, the box will be green.
If your answer is wrong, the box will be red and you will see the correct number. Press the button "New game" and play another dice game.
Printable addition games with dice
Click the picture bellow and download our free printable addition board game in PDF with instuctions how to play this addition dice game for kindergarten kids. You can easily print this free addition dice game on A4 or A3 paper.
Free printable dice addition worksheets PDF
I created also 2 kinds of dice addition worksheets in PDF: the first one containes only empty boxes, so kids roll dice by themselves. This printable dice addition game features a lovely sheet with different coloured squares. Use a pair of dice to fill the numbers in the first two boxes, and then use the final boxes to add them up.
The second addition dice worksheet is already prefilled. Grab these free printable math dice games in PDF! You can find even more printable addition worksheets here.
There are different types of dice you can use when enjoying addition dice games - 6 sided dice for emergent learners and differentiate with bigger dice for more advanced students. For example, a cubed dice has 6 sides; an octahedron dice has 8 sides; and a pentagonal dice has 10. For this blank dice addition worksheet, you can use any set of dice you want!
BINGO: Roll and add dice game free printable
Download these free printable dice addition games in PDF. You can generate as many different addition BINGO printables as you want. You can play our printable addition BINGO game with dice or use our online addition flash cards to generate the addition problems.
Addition BINGO to 12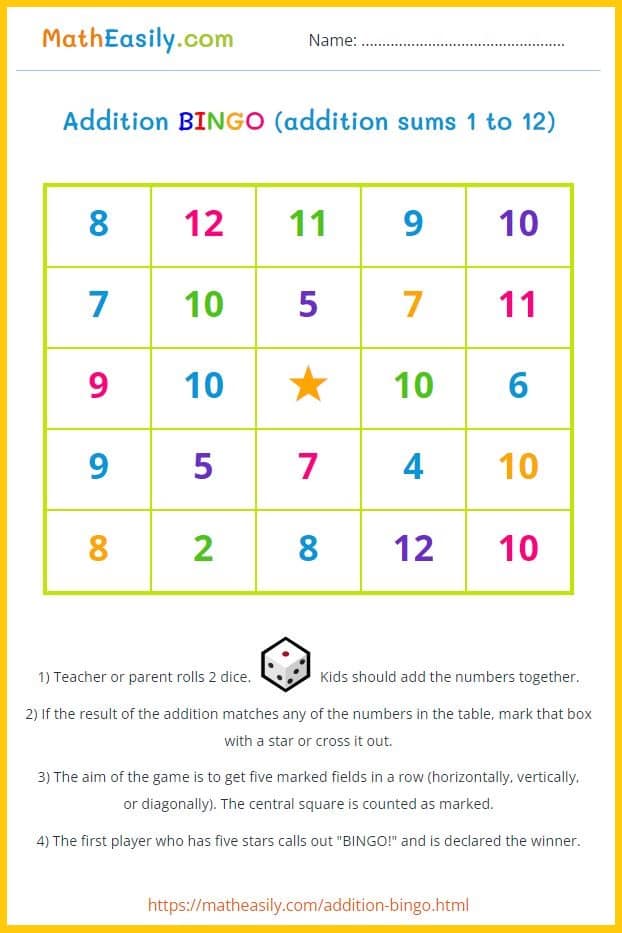 Generate a new PDF
Addition BINGO to 20
Generate a new PDF
This printable BINGO addition dice games cover addition facts up to 12 or to 20. Instuctions are included. You can play these addition BINGO games online here.
What you need for printable dice games?
These free printable addition board games are played with dice.
How to play addition games with dice?
You can play math board games with your child or kids can play together.
Here are some instruction how to enjoy printable dice games:
Put down the printed addition dice game in the center of the play area: you can lay it on the table or even on the floor.
All players place their game piece on START position.
Each player rolls the dice and the player with the highest roll has the first turn.
Players will take turns rolling the dice and moving forward that number of spaces.
The player must correctly answer the addition problem on that space.
If the answer is correct, the player can stay on that space.
If her/his answer is wrong, the player must go back to the previous position.
When to finish?
If the kid rolls the dice and gets a number that makes them move more spaces past the FINISH line, it is the end of the dice game. The first player who reached the finish wins! But feel free to make your own rules.
Addition dice games printables
These addition games with dice teach addition of numbers 1 to 6. You can play these addition dice games online as many times as you want.
Do you want to play another addition games? Then try this single digit addition with pictures or this addition up to 20.
Dice addition game online
Maybe you're wondering how to make kids fall in love with math? To help our kids to learn addition easily I developed these addition games with a dice.
They are fun and children do not feel that they are learning. They think they're just playing.
To make addition more entertaining watch this nice song on YouTube which teaches kids single digit addition.
Free printable math dice games in PDF
Make learning math fun. Play online addition dice games and download dice addition worksheet in PDF. This dice addition game will entertain children in kindergarten and in the first grade. And if you like this addition dice game you will definitely enjoy also multiplication dice games.
Addition dice game
Encourage kids to work on finding the sums of 2 numbers. It not only helps kids with addition but it also entertain too. If you don't have a set of dice handy to enjoy our free printable dice addition game, you can let roll our online dice. Just a few minutes a day can help to cement key concepts of addition.
Category: